A massive modification we couldn't miss : our partner Pneus Online (better known as Tyres-Pneus-Online.co.uk) has recently updated its websites, giving us the chance to ask Kevin CASTELAIN, Manager of Marketing and Executive Assistant, a few questions.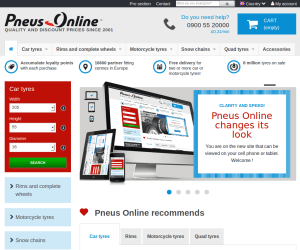 1. We recently discovered a new website for Pneus Online. Can you expand on why this happened?
We actually deployed a new version of our sales website for each of our 13 supported countries. This new version of Pneus Online is the first tyre website to offer responsive design for mobile phones and tablets.
2. Since when was the last version of the website online?
The last version was online since September 2009, so for about four and a half years.
3. What prompted you to launch a new version of your website?
We're always trying to stay ahead of the competition, it's in our DNA. Pneus Online was launched in France in 2001, at that time we were the first to sell tyres on the Internet. The concept of recruiting tyre shops to install our customers' tyres, offering tyre insurance to protect consumers' investments, and providing a virtual client card are all innovative ideas brought to you by the creator of our company, Alexis NERGUISAN. This auto-adjustable website built for portable platforms is in the same vein. The growth of mobile sales was a motivator in this regard, as we need to adapt to the evolving market.
4. The launch wasn't too stressful, was it?
Everyone who's ever worked on an e-commerce site and talks about how it's not stressful… is clearly lying :-).
5. Apart from the visual aspect, is there new functionalities to explore on your new website?
One of the points our clients consistently raised was the lack of display for membership points. Now, when you're on a Pneus Online page, you know exactly how many points you've accumulated, and how many more you'll earn with each product. Other functionality was added, but I'll leave it up to our customers to discover them for themselves.
6. We sense there's a lot of work behind the creation of the new graphics concept. Did you work with an ergonomist?
Thank you! Without revealing everything, we did in fact work with an ergonomist to limit buyers falling through, as well as an artistic director to keep the graphics coherent on each display platform (desktop, tablet and mobile).
7. Pneus Online has a global presence. Have you find it difficult to adapt your layout in consequence? (We're thinking of Italy and Germany, where the words are often very long.)
It's definitely a challenge when considering our international platform. But it's an issue we're well-versed in dealing with and have been for years.
8. Can we anticipate new functionality on the site in the next few weeks?
In 10 days, if everything goes according to plan, Pneus Online will be able to pre-stock your tyre types using a satellite connection which will allow us to check the brand and model of the car parked in front of your house. Pneus Online's customers will only need to validate and pay (on their mobile or tablet device) to receive the tyres that will be mounted at their home, by one of our partner centres (the list of which can be found here).
On a more serious note, our customers are the one who decide the future functionalities of our site by making their comments and concerns known each day. Our team works very hard to give them what they want. I can thus only recommend you visit us at www.tyres-pneus-online.co.uk to discover the newness we have to offer.