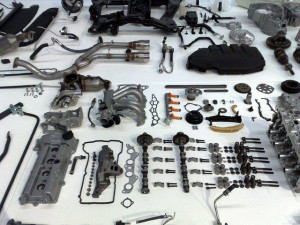 Many people are on a tight budget at the moment. When a car needs repairs, finding affordable replacements is essential. Did you know that you could find it all by doing a search online? Online companies are able to offer parts at a much lower cost than your local garage or skip yard. Here are three reasons why.
1 – Little to no overheads
When running a garage, the owners have to think about the overhead costs. When it comes to online stores, everything is often done from a home or a small warehouse. The overheads are much lower and in some cases non-existent. The companies just have to make sure they turn a profit from the cost of the original parts.
2 – Parts purchased in bulk
Like the garages, many online stores will purchase the parts in bulk. The benefit is that more parts can be purchased at one time since the delivery is available to a wider base. There is less need to worry about getting an order from someone with a specific make or model or to base the supply on the demand in a particular area.
By purchasing in bulk, the prices are often kept to a minimum. Wholesalers will sell to the stores at a lower price, so it is easier to turn a profit.
Some online stores will do deals with wholesalers because they are guaranteed to need certain parts. Again, the savings can be passed onto you so you save money.
3 – No labour costs
When you buy the parts, you are just buying the parts. It will be up to you to fit them to your vehicle or arrange for a mechanic to do it. When you get the parts from a garage, the cost to fit the part is usually included in the total cost. This is taken out of the cost of online parts.
However, there will be an extra cost for the online stores. You will need to pay for postage and packaging. However, this will not take the cost up too much compared to labour costs.
Shopping online is not just convenient. When it comes to buying spare parts for cars it could help you save money. Online stores have many advantages including little to no overhead costs and no labour charges included. They're perfect when you're looking for spare parts on a tight budget.